StageRight Home Sale Assistance®
Did you know that buyers decide if they love a house in the first eight seconds they walk in? What you also may not know is that it is a fact that staged homes sell faster and at a higher sale price, therefore the best way to make a great first impression on home buyers is with the Home Staging services offered by A First-Class Move® (AFCM).
Our Home Staging experts will look at your home as a buyer would and use their design skills to maximize your home's appeal. We make changes to enhance each room, we spotlight your home's best features and we can improve areas that might otherwise lack pizzazz.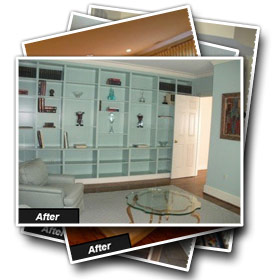 See a StageRight example of
an entire house ready for buyers
All AFCM Home Staging clients enjoy:
Complimentary initial home visit and evaluation
Personal shopping to find the right items to stage your home
Pre-packing to clear space to make your home inviting to buyers
Color and design suggestions
AFCM Home Staging clients can also choose from a complete menu of home sale prep options including:
Space planning, curbside and landscaping improvement
House cleaning, debris removal, minor fixture repair
Painting, light carpentry and cabinetry facelifts…and more!
Ultimately, we help buyers see your home's full potential by bringing out the true character of your home and creating the type of environment in which a buyer can easily visualize both themselves as well as their own belongings in the home, which makes your sales job and the sales job of your realtor that much easier.