Moving Services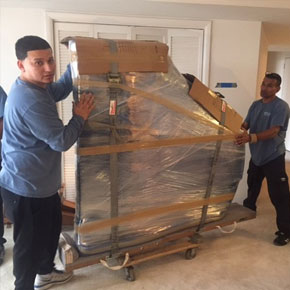 We provide complete moving services for all of our local and interstate clients through our moving division. We supply the entire team of moving professionals, the trucks, the moving tools and equipment and the packing materials needed to make your move seamless. Our movers are carefully selected to provide the high level of service that we demand for each of our clients and their work reflects this standard of excellence. They are trained in the best practices in current moving technology and continually strive to stay abreast of the skills needed to best improve their service to the client.
Our movers go to great lengths to work efficiently to relocate our clients into their new living situation stress-free. They take great pride in not only the quality of their work but also in the personal care that they provide to the treasured belongings of the people that we serve. They know that every move is personal to our clients and they treat each move that they do with the utmost professionalism that it deserves. They treat your items with the same level of care that they would treat their own and the end result reflects this in the fact that every precaution is taken to make certain that your personal belongings and furnishings arrive at their final destination intact.
They also are adept at listening to each of our client's needs throughout the move, which further enables them to customize each move to best accomplish the specific task at hand. Our movers feels that each move deserves their fullest attention to detail and this is reflected in everything that they do during the move, from the level of wrapping and packaging of the items that need to be protected from damage to the way that the truck is packed for transport to how the items are transported by hand to and from each location. We want our clients to be both satisfied and stress-free once the move is complete, so that our clients can seamlessly move forward with their lives once their relocation is complete.