Home Away From Home Respite Care Transition®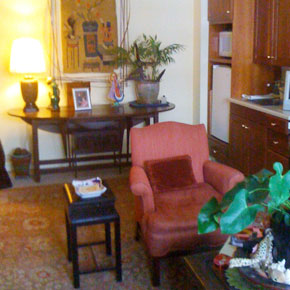 Our Home Away From Home Respite Care Transition® division specializes in catering to the unique situation when a caregiver needs a well-earned break from the dedicated service that they provide to a loved one. Our service helps to facilitate their need to take off time from a very difficult task, one that requires equal parts compassion and dedication to accomplish on a daily basis, one that also demands incredible stamina and fortitude.
Here are just some of the transition services that we provide:
Provides set-up of elder's personal belongings in the assisted-care community apartment
Facilitates continued comfort for elders while their caregivers take a break from caregiving duties
Creates a 'homey' familiar atmosphere for the temporary duration of the elder's stay
Provides a stress-free transition environment precedent to a permanent relocation to the facility
This specialized service is one that is relatively new to the elderservice industry – in response to a need by those caregivers who are considered "informal caregivers" by the eldercare industry. Almost always comprised of close family members or family friends, they are "informal" in name only and they devote countless hours to the devoted care of those who need their help to do even the simplest daily routines. In order for them to sporadically recharge their batteries, a respite care industry has sprung up and what our Home Away From Home® division does is to help the elder person make a temporary transition to these respite care facilities in order for their caregivers to be able to get away for relaxation without worrying about the person that they are usually charged with caring for. Our part in this process entails doing many of the same things that we do for more permanent moves, tasks that have as their aim a stress-free transition.